A.J. Cook Welcomes Son Mekhai Allan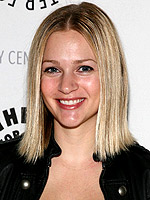 Angela Weiss/Getty
It's a boy for Criminal Minds star A.J. Cook! The 30-year-old actress and her husband Nathan Andersen welcomed son Mekhai Allan Andersen on Saturday, September 13th. Weighing in at 7 lbs, 10 oz and 20 inches long, Mekhai was born at 8:50 p.m. A.J., who formerly appeared on Tru Calling, tells CBB exclusively,
"He's such a good baby. I feel so lucky that he's mine. My husband and I feel very blessed!"
A.J. and Nathan, who announced the pregnancy in March, have been married for seven years. Criminal Minds airs Wednesday nights at 9 p.m. on CBS.