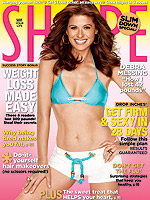 Courtesy Shape
After a three-year weightloss journey — with defining moments of devastation balanced by determination — that began after the birth of her son, Debra Messing was thrilled to have accomplished her goal. "I've finally taken ownership of my body," reveals a proud Debra in the new issue of Shape magazine. However, the joy has not come without a price; the 40-year-old actress admits her heartache over being constantly scrutinized by the media shortly after welcoming Roman Walker, now 4 ½.
"It was written about in the tabloids a lot. On one page it showed all the actresses who got skinny in six weeks or less, and on the other page was me! I was so depressed and frustrated."
According to Debra, what the public was not privy to was the fact that she was working hard with a personal trainer all while trying to balance the demands of a career and a newborn baby. While the trainer "helped me drop the first few pounds," the actress soon plateaued as a result of pure exhaustion. Realizing she was unable to adhere to a three hour workout routine plus fulfill her other responsibilities, Debra "took the pressure off" and relaxed. "I cut back on seeing the trainer, but started eating healthier."
Incorporating her new healthy lifestyle into her daily routines with Roman has been easier than Debra thought. As the mother and son "ride bikes, play soccer, and swim" together, Debra admits that she has managed to "trick my body into working out while doing all the fun activities" the family loves. Excited with their on-the-go living in New York City — including long walks in the local parks — the actress is hopeful that along with a new healthy perspective will come a chance for her and her husband Daniel Zelman to have some quality alone time together. "We've been working for so long and so hard, it's been impossible to plan. My ideal date with Daniel would be a spectacular meal, maybe Italian, followed by dancing. That's a New Year's resolution I'm looking forward to!"
Source: Shape