Brock Lesnar and Rena 'Sable' Mero Expecting a Baby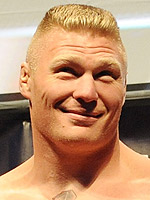 Jon Kopaloff/FilmMagic
After winning the UFC Heavyweight Championship on November 15th — making him the first champion to also headline a WrestleMania and hold the WWE title — professional wrestler Brock Lesnar, 31, was greeted and congratulated by his wife, former WWE's Women's champion Rena 'Sable' Mero. While an official announcement is yet to be made, Sable, 41, was sporting an obvious baby bump and is said to be due in June! No other details are known.
The new addition will join big sisters Mya Lynn, 6 ½, Brock's daughter from a previous relationship, and Mariah, 20, Rena's daughter from a previous marriage.
Source: Wrestling Inc
Thanks to CBB reader Cecilia.