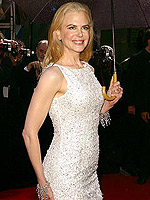 Don Arnold/Wireimage
The decision by Nicole Kidman and Keith Urban — both native Aussies — to deliver their daughter Sunday Rose, 4 ½-months, in Nashville may have surprised some in their homeland, but it "just felt right" to the couple. So says Nicole in a new interview with The Tennessean. "I'm glad that she is able to say she's born and bred in Nashville and Tennessee," she explains. "I think it's very appropriate, considering her daddy."
"His whole life was headed here. From a little boy, he dreamed of coming here. For him to be able to say his baby girl was born here, I think is very special."
Sunday's birth was "peaceful," and Nicole offered thanks to the medical staff at Baptist Hospital for being "just wonderful" to the couple. "It was very simple and people allowed us that very, very special moment to, I suppose, fuse together more and also bond with our baby." From the sound of things, the Williamson County, Tenn. farm the couple currently call home will stay their home for some time to come. "I hope she has a Southern accent," Nicole says of Sunday. So at ease is she in the community, the 41-year-old actress went door-to-door earlier this year as a volunteer with Meals on Wheels. "When I was 8 ½ months pregnant and delivering, people would be like, 'When are you going to have that baby?'" Nicole says. "Or if we were [recognized], they didn't say, and that is lovely."
The atmosphere isn't for everyone, however! Isabella Jane, 15, and Connor Antony, 13 — Nicole's children with ex-husband Tom Cruise — aren't completely sold on their mom's home, but they do appreciate the heritage of their surroundings, she says.
"They are city kids right now, so I'm hoping they'll want to spend more and more time here as they get older. They are at the stage of being 16 and my son is going to turn 14, so they're like, 'Show us some action.' But they love music as well."
Source: The Tennessean