David Pichette Welcomes Daughter Emma Victoria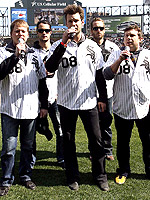 Frank Polich/Reuters/Landov
When Emerson Drive's David Pichette shared that his daughter was due to arrive any day now, he wasn't joking! David and his wife Jill welcomed Emma Victoria Pichette on Friday, November 21st at 5:35 p.m. The couple's first child weighed 5 lbs, 14 oz.
David, 31, had recently shared that the pregnancy had given him "such another appreciation of life. And the bond that you develop withyour wife, throughout the whole nine months. It just makes me a veryhappy man."
David and Jill were married May 17, 2008.
Source: CJFW