Bronx Mowgli: Behind Pete and Ashlee Wentz's Name Choice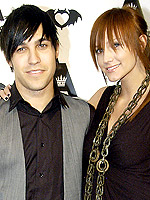 Paul Warner/WireImage
With many readers expressing their opinions on Ashlee Simpson-Wentz and husband Pete Wentz's choice of Bronx Mowgli as the name for their new son, we spoke to Pam Satran and Linda Rosenkrantz of NameBerry, both co-authors of The Baby Name Bible: The Ultimate Guide By America's Baby-Naming Experts, to get their takes on the monikers and uniqueness of the first and middle names. Pam tell us,
Bronx is definitely a grittier, untouristed choice. The name comes from first settler Jonas Bronck, a Dutch farmer. Mowgli was invented by Rudyard Kipling for the hero of his Jungle Book stories, a boy who was raised by wolves (literally) and became an expert hunter, trapper and denizen of the wild.
Linda agrees, adding,
Since Ashlee was born in Texas and Pete was born in Illinois, I wonder if they had any family connection to the northern NYC borough of the Bronx. The Simpson-Wentzes seem to be following the Jolie-Pitt tradition of boys' names ending in 'X' — Maddox, Pax, Knox. And though Mowgli was created by Kipling, he's better known to most people via the spunky 10-year-old boy in the 1967 Disneyfied animated film version of The Jungle Book. While Kipling made the name up, in the stories it's said to mean 'frog'.
What do you think of cities or characters as names? Would/did you use one for your child?