Fatherhood Helped Noel Gallagher Stay Drug Free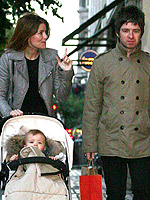 A. Benjilali/WENN
Oasis' Noel Gallagher has made no secret of the fact that he lived a life filled with drugs when he was younger, but now that he is father to Anais, 8 ½, and Donovan Rory MacDonald, 13 months, they are a thing of the past. "It's not cool to be into drugs when you'vegot children, no matter which way you look at it," the 41-year-old rocker notes."You have aresponsibility to see them grow up, and then you have a responsibilityfor them to see you as a role model." No matter what happens in life, Noel just wants his kids to know that they were his top priority.

"I don't want my kids to grow up and think Iwas never there, physically or mentally. I want them to see me as … asjust plain old dad."
Anais' mother is Meg Matthews and Donovan's is Noel's girlfriend Sara MacDonald.
Source: The Wave Magazine