Prince Pieter-Christiaan and Princess Anita of Orange-Nassau Welcome a Son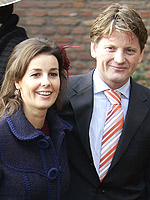 Michel Porro/Getty
Prince Pieter-Christiaan of Orange-Nassau, 36, and his wife, Princess Anita, 39, are parents again! The couple welcomed their second child — and first son — on Wednesday, November 19th in The Hague. Baby boy Pieter Anton Maurits Erik was born at 1:32 a.m. and weighed 8 lbs, 4 oz. He joins big sister Emma Francisca Catharina, 2 next week.
The pregnancy was announced in May.
Source: Het Koninklijk Huis
Thanks to CBB reader Jess.