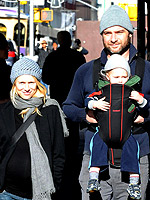 Hector Vallenilla/Pacific Coast News
With his fiancé, actress Naomi Watts, 40, due this winter with the couple's second child, actor Liev Schreiber reveals to Us Weekly that the pair are still lacking a moniker for the new baby. When asked if they had a name in mind, Liev — a self-proclaimed "worrier" — was quick to respond, "No, we don't!" However, while Liev may be unsure what he will be calling his child, there is hope he will be more fortunate when it comes to passing on some of his looks. As for his first child, son Alexander 'Sasha' Pete, 15 months, the 41-year-old actor says he is a complete mama's boy!
"I don't know if you've seen him, but he looks exactly like his mother!"
Source: Us Weekly, Dec. 1st issue