Hugh Jackman Totes a Sleeping Ava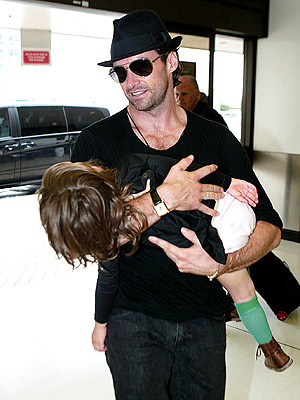 PhotoNews International Inc./FilmMagic
He may be PEOPLE's Sexiest Man Alive, but to his kids, he's simply dad. Proving that on Tuesday afternoon, Hugh Jackman carried a sleeping Ava Eliot, 3, through LAX airport after arriving in the States. As part of his sexiest man interview, Hugh was asked what he wears to bed. The actor replied,
"I didn't wear anything until my daughter was born and we had a night nanny because I was working. I walked out stark naked, and she was reading a book. Now I like boxer briefs."
Hugh, 40, is currently promoting Australia, his new film co-starring Nicole Kidman. The flick opens on November 26th.