Pickles Galore for Expectant Alison Sweeney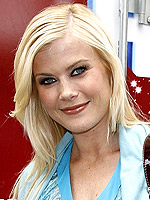 Joe Kohen/WireImage
If you are a fan of Days of Our Lives and Alison Sweeney, you may have noticed that in her scenes at the safe house there is one constant feature — pickles. In a new blog entry, Alison shares that her pregnant character Sami is not the only one having cravings for pickles. With her current pregnancy, Alison "went through about a two-month phase when I just couldn't get enough pickles." So Alison "asked the prop department to put them in the fridge in the safe house, and then it just became this running gag. You'll see them appear several more times in upcoming episodes," which is okay for the 32-year-old because "sometimes we shoot those scenes at like 9 a.m., and I am still rarin' to go — psyched to bite into a cold, delicious, sour treat."
The actress credits her first pregnancy with son Benjamin Edward, 3 ½, for helping her be able to portray an emotional, pregnant Sami.
"When I was pregnant with Ben, I was seriously an emotional roller-coaster … I seriously wept, sobs into my pillow, for a good solid hour because Tivo didn't tape my favorite show. My husband was so unprepared with my weepiness. He would pat my back while trying not to laugh."
Thankfully for The Biggest Loser host and her husband, Dave Sanov, she believes "it's not as severe this time as last. I am able to remain rational."
Alison and Dave's little girl is due to arrive on January 20th. If you missed our CBB interview with Alison — she answered your questions! — check it out here. Also see her in Who's Due Next!
Source: Ali's Blog at NBC