Snoop Dogg Offers Tips on Hosting a Sleepover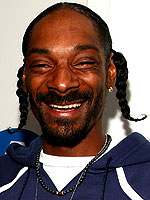 Theo Wargo/WireImage
President-elect Barack Obama and his wife Michelle Obama recently revealed that one of the things daughters Malia, 10, and Sasha, 7, are looking forward to the most about their upcoming move to the White House is hosting sleepovers for their friends. Last night on Late Night with Conan O'Brien, rapper and reality tv star Snoop Dogg (né Calvin Broadus) offered some tips, as he knows a thing or two about sleepovers himself as dad to Cori, 9. "You need to learn how to bake a cake," Snoop said he would advise the future president. "It scores points, when the father of the house is able to do that." Also on the list? "Popcorn and cotton candy," he said. The most important element to hosting a good sleepover, however, is knowing when to bow out gracefully.
"They like you to get out of their face and let them be kids."
When asked by host Conan O'Brien if he then tackles the mess that is left in their wake, Snoop, 36, smiled and said "no, that's what the kids are for." In addition to Cori, Snoop is dad Cordell, 11, and Corde, 14, with wife Shante Taylor Broadus.
The second season of Father Hood premieres November 30th at 10:30 p.m. on E!
Source: Late Night with Conan O'Brien