Minnie Driver: Walking With Henry is My Daily Workout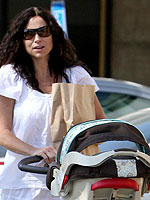 KM Press Group
After enduring pregnancy and then delivering a 9 lb, 12 oz. baby boy, Minnie Driver admits that she has "never eaten more food in my life!" Now, two-and-a-half months postpartum, the 38-year-old actress — who says breastfeeding helps "burn [the weight] off" — is taking a slow, gradual approach to shedding the extra pounds and shares that despite her appearance, she "still [has] a marshmallow tummy." While Minnie does "some yoga," her main source of exercise are her long daily walks with son Henry Story. "I live in the hills, so it's kind of up and down," explains Minnie.
"I'm just walking [with a] very heavy stroller with my baby. My baby weighs 15 pounds so he's like a weight session. Yeah, he's going to be tall."
Amidst her relaxed weightloss plan, Minnie finds herself fully enjoying music time with her new baby boy. "When I sing, he smiles and he laughs and he sings alone," gushes the proud mama.
Minnie recently discussed her labor and delivery and shared new photos of Henry. Click here if you missed it!
Source: Us Weekly