Chris O'Donnell Says Five Kids is 'a Handful'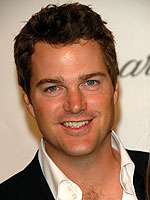 Stephen Shugerman/Getty
When Chris O'Donnell and his wife Caroline saw their brood blossom into a family of seven, it was chalked up by many to their faith. During an appearance last night on Jimmy Kimmel Live!, however, Chris suggested that there is a much more straightforward explanation for their five children. "Everyone says, 'Oh, you must be Irish Catholic,'" the 38-year-old actor said. "Trust me, we know what we're doing…there was just a miscommunication there." The couple intended to stop having children after the birth of their fourth, 2 ½-year-old Finley, but baby number five — 11-month-old Maeve Frances — was a pleasant surprise. In any event, Chris says he and Caroline are definitely done now.
"We're not going to be the Duggars. We're going to stop at five, because five is a handful."
Calling Halloween "the best holiday of the year," Chris admits that the costume situation can become a "a problem." "September rolls around, and they've got their first round draft choice on, and they run around the house in it for a week before [changing their minds]," he explains. Their former neighborhood was extremely family-friendly, with Chris estimating that at least 350 trick-or-treaters visited their home; Of course, that high turnout could be due to the fact that the O'Donnell's are exceedingly generous when it comes to candy!
"I do a Costco run, and I remember when I was a kid, the house that gave the full-sized candy bars. Kids remember. So I should probably forewarn the people that buy our house, the [trick-or-treaters] are going to come in search of the big candy bar."
Each of the children have 'Robin' costumes, just like their dad — who has the original 'Robin' costume he wore in the film Batman Forever. Chris joked that Caroline is "really into it," which led host Jimmy Kimmel to observe "hence…all those little boy wonders running around." While his eldest child, 9-year-old Lily Anne, is "excited" by her dad's career the same cannot be said for his second and third children — Christopher Eugene, 8 and Charles McHugh, 5 — whom Chris describes as a "little more sports-obsessed."
Source: Jimmy Kimmel Live!