Nicole Kidman is 'Over-Bonded' With Daughter Sunday Rose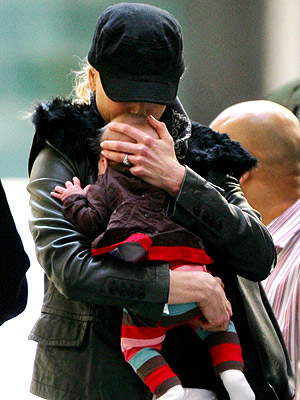 Flynet
Once dedicated to her movie career, which included an average of two movies a year since 2001, Nicole Kidman has not lost her passion and is still driven, albeit with a different destination in mind. The actresses' priorities these days have shifted from her movie roles to her focus on being a "good wife" to her husband, country singer Keith Urban, and "a good mother" to the couple's 4-month-old daughter Sunday Rose and her children Isabella Jane, 15, and Connor Antony, 13. In fact, Nicole hasn't "read a script in a long time" and although she admits "if something great came along — it's got to give me butterflies — then absolutely," these days there is no hiding where her heart is: at home with her family.
Despite Nicole's obvious joy with her place in life, the journey did not come easy for her when only four months after marrying fellow Australian Keith, the couple was faced with the hard road of recovery when he entered into a rehabilitation center. Now, having survived the difficult time as newlyweds, Nicole and Keith are committed to making their family work — even if that means spending long hours traveling, as the new dad did when he flew for 24 hours to ultimately spend only 6 hours with his wife. "We're both willing to move mountains to make it work, and with that, you still touch wood," explains Nicole, who believes the "only way love flourishes is if you keep feeding it."
Having recently discussed her experience in her native country's "fertility waters," Nicole became pregnant during the final month of filming her new film Australia. After sitting the director down to announce her good news, Nicole shares in a new interview with USA Today that she immediately began to "prepare for the biggest thing in my life: giving birth." Fortunately for the 41-year-old, her younger sister — and mother to four — Antonia was eager to give Nicole advice, ultimately becoming her "rock" during the long nine months.
"I did yoga through the whole pregnancy. My sister recommended doing that. My sister is younger, but she has had four kids. She's had natural birth. I had an epidural! She was great for me through the pregnancy."
Click 'More' to read Hugh Jackman's thoughts on Sunday Rose and the family's holiday plans.
Prepared to welcome their baby girl, Keith and Nicole kept themselves nestled away on their farm in Nashville as the couple awaited the arrival of Sunday. Once their daughter made her grand debut, the excited new mom made bonding her first priority as she shares that "the baby comes wherever I go." For Nicole, having Sunday close by allows her to spend her time gazing — against her mother's advice — at her "miracle baby."
"I just like looking at her, watching her breath. I stand over her crib and watch her breathe. It's pathetic. My mum says I'm over-bonded. I don't care. I'm just very bonded right now."
However, while Nicole can easily spend all day starring at her new daughter, she isn't too fond to share those moments with the rest of the world. Reiterating that she doesn't want Sunday photographed, Nicole says she "just couldn't expose her. She's my baby girl and I'm very protective and I'm still hormonal." While Nicole's motherly instincts made her want to spend the first month "in the bubble of Keith, Sunday, Bella, Connor, and me," she eagerly shares her daughter's milestone markers as Sunday is "just barely rolling over, smiling, and giggling." A miniature "Keith-ette," Nicole believes her baby girl looks "just like her daddy" minus her fair complexion!
"She's got my fair skin, unfortunately. I wanted her to have dark skin. She's so pale and she has to wear zinc cream and hats. Poor Sunday. There's no frolicking on the beach!"
After enjoying their daughter in Tennessee for four weeks, the couple packed up — with Sunday in tow — and returned to Australia in order for Nicole to finalize her scenes in Australia. In addition to Nicole's work-related commitment, the trip also gave her co-star and fellow Australian native Hugh Jackman an opportunity to meet the new baby, which coincidentally took place on a Sunday! "She's very calm and beautiful, a gorgeous little kid. There's Nicole, so happy. It's remarkable how amazing she looked a month after giving birth and she fit into all the costumes. And those costumes were not forgiving! Her energy level was unbelievable," remembers Hugh.
Having wrapped the movie, Nicole has plans to travel to England to film scenes for her upcoming musical Nine, but not before the family enjoys a Christmas holiday together. The trio will be celebrating their first Christmas together in New York as Nicole is looking forward to showing Sunday the beautifully decorated city and it's "pretty lights — the baby loves the lights."
Australia is in theaters November 26th.
Source: USA Today