Kate Winslet Proud of Imperfections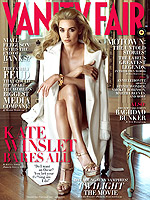 Courtesy Vanity Fair
When the British tabloids suggested Kate Winslet's recent photoshoot for Vanity Fair was airbrushed, the 33-year-old actress hit back with a statement that she was "furious" with the insinuation. Now, in a new interview with The Daily Mail, Kate says that when it comes to her body and her public image what you see is what you get — and she wouldn't have it any other way.
"I'm doing all right. I've had two kids. I'm 33. I don't look in the mirror and go: 'Oh, I look fantastic!' Of course I don't. Nobody is perfect. I just don't believe in perfection. But I do believe in saying: 'This is who I am and look at me not being perfect!' I'm proud of that."
While many women might struggle to identify Kate's perceived imperfections, she laments having a "crumble belly" and notes that her "boobs are worse for wear after two kids." Not a fan of the gym, she instead prefers to use a Pilates video in the privacy of the home she shares with children Mia Honey, 8, and Joe Alfie, 4 ½, and husband Sam Mendes. With a family motto of "keep it simple," Kate reveals that she won't employ a cook or a trainer because "life gets too complicated" when there is "staff running around." She adds,
"I don't want that for my kids…I want them to put their own dirty clothes in the laundry bin and bring their plates from the table to the sink. It's as normal as we can be."
Click 'More' to read about just how far Kate will go to make sure her kids are "OK."
At the time of the interview, Kate was contemplating an upcoming trip to Los Angeles with Sam, without the kids. Describing herself as "completely traumatized" by the prospect, Kate said she is taking every conceivable precaution! "We've never both gone and left the kids, so we're going on separate planes — flying out and back on separate planes," she explained. "'It lessens the odds and makes me feel better."
"I know it sounds ridiculous, but I will go to any lengths to make sure my kids are OK."
While being a working mom may have made Kate feel conflicted at one point in her career, she's since made peace with the balancing act. "I don't beat myself up any more about going to work," she said. "It doesn't mean I'm being a bad mother just because I want to go and do my job sometimes."
Mia is Kate's daughter with ex-husband Jim Threapleton; she has been married to Sam since 2003. Her next two films — Revolutionary Road and The Reader — are already generating considerable Oscar buzz, hitting theaters in January 2009.
Source: The Daily Mail