Chantal Kreviazuk Updates Us on Her 'Dreamy' Sons
Regular CBB readers may remember our column with LA-based Canadian singer Chantal Kreviazuk earlier this year, as she chronicled her third pregnancy for us. It's time for an update! After welcoming her third son in June, life has become a little hectic in the Maida household with Rowan Michael, 4 ½, Lucca Jon, 3, and Salvador 'Sal' Daniel, 4 ½ months. Here Chantal tells us about "the experience of being a mom to three boys four years old and under!"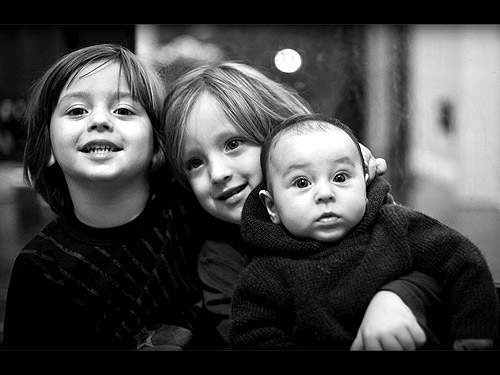 Dustin Rabin for use on CBB
As a singer and song writer, along with being a mother of three, Chantal is always busy, but she knows it could be worse! Chantal says that a friend of hers with four children must either be "more patient than me, crazier than me or doesn't feel as much pain." However, that hasn't stopped Chantal and her husband, Our Lady Peace's Raine Maida, from considering a fourth child, explaining that she's "enjoying every minute and may even want another." She isn't sure that Raine will be in on that plan though!
When life gets a little hectic, Chantal finds herself laughing. With three boys, Chantal admits there's at least "one battle going on" with crying and tears everyday. But through the bad times, Chantal smiles when she sees her older boys interacting with baby Sal, who is "sooooooo dreamy." From feeding Sal solids to her "hilarious" older sons, Chantal shares that life at the moment is just "wonderful."
I am just enjoying every minute that I can.I am learning and growing everyday; becoming a better person (I hope)from the experience!The boys are super gentle with their baby brother, and always ask tohold him every chance they get.They cry when I say no!So I let them. How can I resist?!I find that I do bribe a bit more, and I eat a bit less, shower less,have sex less, you know the drill.But God, when you do get to have time for yourself (or your partner) isit ever fabulous!

Sal is four and a half months. He started crying when I was eating myfood, reaching for it in fact, so he is now eating some solids (if youcan call them that!).He loves it — sweet potato, avocado, rice cereal, and of course, banana.I will try yogurt next.I did that thing where you roast the sweet potato, and then spoon it,mashed, into several ice cube trays, freeze and store in a zip lockbag.That way, we can just leave one out to thaw mid-day, and it is ready togo mid-afternoon for him.Not feeding him at night for a while, seems to upset his tummy toomuch.Sal said "Hi" from two to three months, I think it was a weird fluke! Itstopped.

Rowan and Lucca continue to be very active, musical, hilarious (lots ofbad knock knock jokes) and the best entertainment one could ask for.

I miss them all when they sleep.

xo Chantal