Sherri Shepherd Thinks Of Her Son Jeffrey To Stir Up Emotion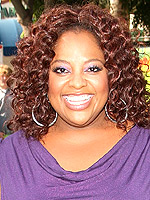 Jason Merritt/FilmMagic
In the new film Madagascar: Escape 2 Africa, Sherri Shepherd lends her voice as the mother lion of young Alex, who has found himself outside of his natural reserve in Africa and separated from both his mother and father. While not her first time participating in an animated film, The View co-host admits that "sitting in a booth in a chair with a glass of water and a microphone" calls for actors to dig deep in order to relate to their fictional characters and bring passion to the big screen. Playing the role of a worried mother, Sherri's source of inspiration was quite natural: her 3 ½-year-old son Jeffrey Charles.
"Well, I got a 3-year-old and I would [give up everything to be with him] in a heartbeat. So really, sitting in that booth by myself with a microphone, I just went, 'What would happen if I had to give up my son, Jeffrey? How would I feel?' It was very emotional, very raw emotion, just where my imagination took me."
Sherri shares that while she would love to visit Africa one day, first she must concentrate on ridding Jeffrey — who "craned his head" when he recognized his mom's voice in the film, but "couldn't reconcile the fact that there was a lion with my voice" — of his pacifier. "As soon as I can get this binky out of my son's mouth, [because] I'm afraid he'd lose it in the jungle and if he lost that binky in the jungle, we all in trouble on that safari," shares the 41-year-old comedian.
Sherri's new film — Madagascar: Escape 2 Africa — which also features the voices of actors Jada Pinkett Smith, Chris Rock, and Ben Stiller, is in theaters now.
Jeffrey is Sherri's son with her estranged husband, fellow comedian Jeff Tarpley.
Source: Post-Gazette