Luca Facinelli Loves Dad's New Film, Twilight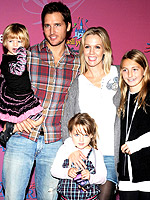 Axelle Woussen/Bauer Griffin
Actor Peter Facinelli hasn't done many films or television shows that daughters Luca Bella, 11, Lola Ray, 5 ½, and Fiona Eve, 2, are allowed to watch, so he was excited to take part in the new movie Twilight. The film, based on the novel of the same name by Stephenie Meyer, has excited Peter's oldest daughter Luca, who is a huge fan. She had the chance to sneak a peek at the movie, and gave her dad a glowing review.
"She loves it. I asked her if she was saying that because she was biased and she said, 'No, dad, I loved it.' I asked her, 'Was it pretty truthful to the book?' and she said yeah. So I'm relieved."
Being a dad to his three girls with wife Jennie Garth helped the 34-year-old in his portrayal of character Carlisle Cullen in the film. Even though he is not that much older than those portraying the teenagers he is adoptive father to on screen, Peter felt that he "brought that father presence to the table," thanks to his daughters.
Twilight will be released on November 21st.
Source: LA Times