Parenthood Taught Deborah Cox to be Selfless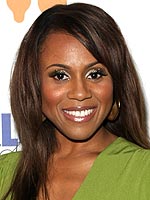 John Parra/WireImage
Singer Deborah Cox has learned first-hand that motherhood "is a very selfless role," but it is one that she would not trade for anything. Deborah, who is currently pregnant with her third child, loves parenthood to Isaiah, 5, and Sumayah, 2, with husband music producer Lascelles Stephens, but "wouldn't recommend being a mother to anybody that doesn't like to share [laughs] … to share their self, share their time, share everything because it really is what you have to do when you become a mother." Deborah "always wanted a big family but it is a lot of work" and she has learned that if you want to "have a career and have a family, [that] it takes a lot out of you" and that "sometimes things have to take a back seat while we take care of the kids, putting their needs first."
"So being the kind of people that we are, my husband and I, we pride ourselves on being able to do it thus far without a nanny. We've got an amazing support system with our family; my mother-in-law comes and spends time. We wouldn't be able to do that and give these kids some sort of stability if we were not selfless."
Since her kids come first, it makes only sense that they would help inspire Deborah with her music. "I think my experience –- just in understanding that I am now responsible for these two, making sure that their lives are full and everything, I think that part of it has been put into the music," shares the 34-year-old. The kids are even helping Deborah come up with a new type of music. "I have this knack for coming up with these really fun melodies like the 'brush your teeth song,' the 'getting ready to go to bed song,' all these songs that I kind of come up with to get them to do something because you have to make it fun for kids."
Be sure to check out Deborah showcasing her pregnancy in her new video for Beautiful U R. Baby #3 is due in February.
Source: Singers Room