Motherhood Helped Ground ATWT's Terri Colombino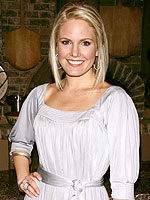 Jim Spellman/WireImage
Parenthood can change an individual in a variety of different ways, but for actress Terri Colombino, it not only changed her, but kept her grounded, as well. Since welcoming daughter Julia Catherine with actor/musician Arthur Colombino four years ago, Terri shares that motherhood has "grounded me a lot and made me take the focus off of the frivolous things" in life. The As the World Turns star believes that "kids remind you to be in the moment and appreciate what you have in that moment instead of always worrying about the future and what's going to happen," which is good for Terri because "I am such a worrier and planner."
"As actors and as people you want to live in the moment, but it's a really hard thing to do. You watch these children and it's just second nature for them. That's definitely how [Julia] has helped me."
Readers may recognize Terri, 33, from when she appeared on TLC's A Baby Story.
Source: Soap Opera Digest, November 25th issue