Kristy Swanson Plans to Focus on Family During Wedding Ceremony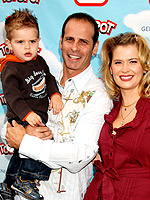 Roger Karnbad/Celebrity Photo
After she welcomed her first child — son Magnus Hart, 21 months — actress Kristy Swanson knew she was in for some major changes, but "never in a million years" could she have anticipated becoming so patient! Admitting that her single, childless days portrayed her as a "younger, selfish" woman who was focused on "career, career, career," Kristy now finds herself "way more patient" as a mom.
Ready to tie the knot with Lloyd Eisler — who has sons Ethan Harley, 4, and Seth Keenan, 2 ½, from a previous relationship — Kristy reveals the details of her upcoming February 7th nuptials in an interview with Mom Logic. A special event that has become a "weekend wedding getaway" in San Luis Obispo, Kristy shares that the ceremony will focus on "the blending of a family and the unity and coming together." With their three boys a part of the big day, Kristy wants them to realize "that we're all a family now," however, she says that despite being their step-mom, the 38-year-old will continue to let Lloyd handle the discipline.
"I do day-to-day little things, like maybe a time-out here or there if he's not around, but I communicate with him and he deals with the kids."
With the upcoming holidays approaching, luckily for Lloyd, his fiancée is easy to shop for! Since becoming a mom, Kristy admits that she doesn't "want a lot of things," although, as an afterthought, would appreciate "a rest and a massage, but that's about it!" The family — joined by Lloyd's boys — will spend Christmas together in Los Angeles relaxing and having "a good time."
Source: Mom Logic