Nia Vardalos and Ian Gomez Welcome a Daughter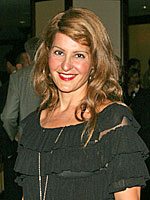 INF
My Big Fat Greek Wedding star Nia Vardalos, 46, and her husband, Ian Gomez, 43, have adopted a daughter, they tell E!'s Marc Malkin. The couple — who have not released many details — said today they adopted the girl, who is American and less than 5 years old, several months ago, and chose to reveal the news now to spotlight National Adoption Month.
A statement from Nia's' rep states, "They are going public now to bring attention to NationalAdoption Month and the 500,000 children in foster care. Of these children, 129,000 are'legally free' for adoption and waiting for a family."
Coincidentally, Saturday, November 15th, is National Adoption Day.
Nia, who hit it big with her 2002 indie film, will next be seen in the romantic comedies My Life in Ruins and I Hate Valentine's Day. This is the first child for the actress.
Source: E!