Minnie Driver: "I Want Another One"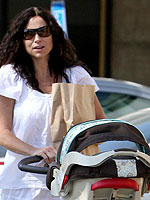 KM Press Group
Birthing a 9 lb., 12 oz. baby is no small feat, but as the pain from delivering 10-week-old Henry Story recedes from Minnie Driver's memory, her willingness to do it all over again has only grown. So said Minnie during a Friday appearance on The Ellen DeGeneres Show, when she noted that the desire to have another baby "only kicks in after you have really forgotten [labor]." When she's feeling nostalgic, the 38-year-old actress has photographs of the birth to remind her of what she endured — but even they haven't been enough to dissuade her from wanting to make Henry a big brother.
"[The pictures] do make you kind of go, 'Owwww! Ouch!,' but then I look at him. I want another one of them."
Joking that she "lost 25 pounds" during the delivery, Minnie shared that Henry was in no hurry to make his entrance to the world. Over the course of one week she endured two prolonged bouts of false labor before embarking on the 25 hours of genuine labor that ended in Henry's birth — the first 20 hours of which were spent at home in a birthing tank. Throughout, Minnie was steadfast in her belief that a C-section could be avoided.
"I thought that … it was his journey. He wasn't in any trouble, there was nothing wrong. He was just a big baby."
Click 'More' to read about whether Minnie's gender prediction was right, and for a link to see the video (new pictures of Henry included!
That big birth weight came into play at Halloween, when Henry was unable to fully squeeze into his pumpkin costume. "We had to cut the feet off to make him fit, so he wore orange and black spider socks," Minnie explained. "On the back there was just this huge triangle where his diaper showed because we couldn't close it." If Henry runs into any more wardrobe malfunctions, host Ellen DeGeneres has baby boy — and his bum! — covered. She gifted her guest with several onesies, including one which reads, "I may be BIG but my Mom is Minnie."
Telling Ellen she was "convinced" Henry was a girl, Minnie admitted that she had no boy names picked out in advance of the birth. "I had dreams, dreams of my little girl coming and talking to me … I was so wrong," she said. For now, Minnie is content to settle in for a new life with her "very easy" baby. "He sleeps and smiles as far as I can make out," Minnie said.
Source: The Ellen DeGeneres Show, Click the link for video!