Huck Paisley Grabs a Snack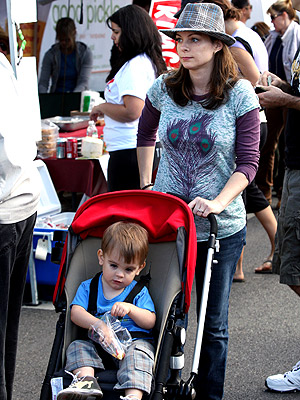 KM Press Group
Currently in Los Angeles while wrapping up filming on According to Jim, expectant mom Kimberly Williams-Paisley took 20-month-old son William 'Huck' Huckleberry to the farmers' market over the weekend, where he enjoyed a snack!
Due in April with baby #2, Kimberly had Huck deliver the good news to dad Brad Paisley by having the toddler hand the country star a positive pregnancy test! Earlier this week, Kim showed off her beginning bump at the Country Music Awards.
Huck rides in a Bugaboo Cameleon in Dark Grey Base/Red Fabric with tan fleece seat cover ($899).