'Pregnant Man' Thomas Beatie Expecting Second Child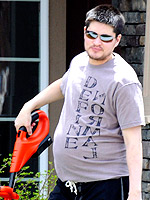 Fame
Thomas Beatie — who shot to fame this summer after delivering daughter Susan Juliette, 4-months — can once again be called the 'Pregnant Man.' Barbara Walters broke the news this morning on The View that Thomas and his wife Nancy are expecting their second child, due June 12th. In an exclusive interview, Thomas reveals that he opted not to resume taking the male hormone testosterone after Susan's birth, so that the couple could instead pursue parenthood a second time. He adds,
"I feel good. I had my checkups with my hormone level, as far as the HCG. And everything is right on track."
Barbara's interview with Thomas — titled 'What Is a Man, What Is a Woman? Journey of a Pregnant Man' — is scheduled to air Friday at 10 p.m. on ABC.