Brad Paisley's Favorite CMA Moment: Kissing Kimberly's Baby Bump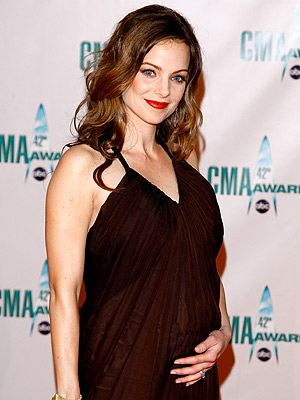 Jemal Countess/WireImage
by Eileen Finan:
Brad Paisley ruled the stage at Wednesday night's Country Music Association Awards as the show co-host, a two-time performer and the winner of the male vocalist award, but his jubilant celebration offstage provided his sweetest moment.After his name was announced as best male vocalist, Brad, 36, trotted offstage into the front row of the audience, where his pregnant wife Kimberly Williams-Paisley, 37, was sitting. He embraced her, kissed her and then bent down to plant a kiss on her baby bump.
"I've got four more months to go with this pregnancy and that's going to get me through some stuff — I got that in my back pocket now," Paisley jokes of his spontaneous show of affection. "The next time I'm not performing up to par, I can say, 'Remember that?' "
More seriously, Brad says, he hopes one day he can replay the moment for his future son or daughter.
"Kimberly and I were both talking about how special that will be for our child to grow up someday and see that tape when I kissed her belly. He or she — we don't know what it is yet — will be the second child and they always have trouble feeling important. I didn't do this with [20-month-old son] Huck – so they've got one on him."
Brad and Kimberly's new baby is due to arrive in April.
Source: PEOPLE