Harold Perrineau Shows Off Wynter Aria!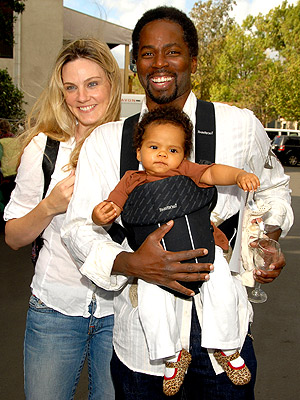 Mark Sullivan/WireImage
Wynter Aria Perrineau, 6 months, made her public debut at the Great Chefs of Los Angeles Go Green, Go Organic Event held Sunday in Studio City, Calif. Carrying his little lady was Lost star Harold Perrineau Jr., who posed with wife Brittany.
Arriving May 7th, Wynter took her sweet time coming into the world! "My last day [of shooting the show] was kind of hectic. [Production] wastrying to get me out because, at the time, my wife was a centimeterdilated," Harold explained after her birth.
"I got home and then for another week, the baby would not come!We were like, 'Seriously, dude, I was in Hawaii rushing like a madman!'I was talking to the baby, my wife was walking around, practicallyhiking, but the baby just would not come out!"
Although together for many years before, Harold and Brittany were married in 2002. Wynter joins big sister Aurora, 13, at home.
Harold is wearing Wynter in a Baby Bjorn Carrier Original in City Black ($66).