Mobile Ptolemy Keeps Gretchen Mol Active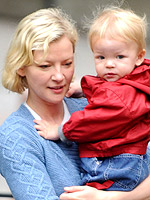 Doug Meszler/Splash News Online
With 14 months having passed since welcoming her first child, son Ptolemy John, new mom Gretchen Mol admits that although she has managed to shed most of the weight, she has solicited help to get rid of those last few stubborn pounds. "I still feel like I have work to do," shares Gretchen, who goes on to say she doesn't "feel like I'm completely there yet." With her goal in mind, the 36-year-old has hired a personal trainer from Equinox gym, however, in her spare time, the Life on Mars actress can count on Ptolemy — who "every single day" is "bringing something out totally unexpected and it's wonderful" — to keep her cardio levels up!
"He's starting to say words like 'cheese' and 'lights' and he's walking like a fiend! He's actually running and he's climbing stairs. It's fun!"
Ptolemy is Gretchen's son with husband Kip Williams. Gretchen's show, Life on Mars, airs Thursday nights at 10 p.m. on ABC.
Source: Us Weekly