San Jose Sharks Dan Boyle Welcomes Daughter, Eastin Sky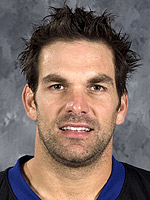 Getty
San Jose Sharks defenceman Dan Boyle and his wife Amber welcomed daughter Eastin Sky Boyle on Tuesday, November 11th. She weighed 6 lbs, 1 oz and was 19 ½ inches long.
Dan and Amber were married on June 14, 2008. The 32-year-old began his professional hockey career in 1998 when he joined the Florida Panthers. He later went on to play for the Tampa Bay Lightning and joined the Sharks in July of this year.
The pregnancy was announced in July.
Source: Ottawa Citizen
Thanks to CBB reader Brooklyn.