Bear Grylls and Wife Expecting Baby Boy #3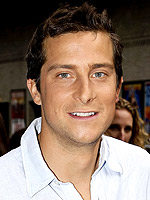 Brian Ach/WireImage
While visiting the PEOPLE offices earlier this week, Bear Grylls shared some exciting news with the Celebrity Baby Blog — he and wife Shara are expecting their third son! The baby is due in January and the couple is considering the name Huckleberry for their new addition. He'll join big brothers Marmaduke, 2 ½, and Jesse, 5. When asked about the unique choice of names for his boys, the Man vs. Wild star, 34, laughed and said,
"Jesse, Duke and Huck! Won't that be great when they're 18?!"
Bear and Shara have been married for eight years. Man vs. Wild airs Wednesdays at 10 p.m. on the Discovery Channel.