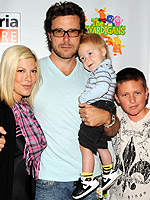 Jordan Strauss/WireImage
Able to shed the pounds after welcoming her daughter Stella Doreen five months ago, Tori Spelling credits all her success to a change in attitude. After her first child — Liam Aaron, 20 months on Thursday — Tori was "panicked" with the daunting task of losing weight, something she says she had never faced before. Changing her perspective on the issue, the mom of two has made the weightloss a "family affair" as Tori spends time with her husband Dean McDermott and their kids in the kitchen cooking dinner or outdoors taking a hike. "I'm a working full-time mom so when I have an hour off, I don't really want to leave my kids and go to the gym. I don't want to miss a moment, so I do stuff with them and that makes it more enjoyable," shares Tori.
During one of her many trips to the pool with her Liam, the 35-year-old — who has "no plans right now" for more children, "but you never know in the future" — shares that her son had a diaper mishap, causing the family to quickly flee the scene!
"I don't want to embarrass Liam. Someone who should remain nameless might have pooped in a public pool. Yeah um, he had a swimmer on, but, you know, things slip out! Needless to say, we got out of there quick."
Source: Mom Logic