Jamie Oliver Has 'Tried Everything' to Have a Son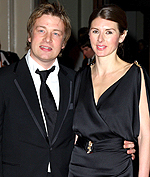 Mike Marsland/WireImage
It's been no secret that Jamie Oliver hopes to have a son someday and with his wife Juliette 'Jools' Oliver pregnant with the couple's third child, odds are good that his dream is about to become reality. Just in case it doesn't, however, Jamie tells David Letterman — himself dad to 5-year-old Harry Joseph with partner Regina Lasko — that he's open to any and all suggestions. "I would like a little boy this time," the 33-year-old celebrity chef admitted. "You've got a little boy…any techniques you need to let me know for maybe the fourth one, if I don't get it this time?" Says Jamie,
"I tell you what, I've tried everything. I've tried…naked, outside when it was very cold and had a little run up. But next time I'm on the show I'll be able to tell you if it's a boy or not and then maybe we can turn that into a new tactic."
Joking that he "doesn't remember" conceiving baby-on-the-way, Jamie adds "I'm sure I was very good." As for Jools, her cravings are in full swing — with Jamie describing his wife as "an eating machine." Her foods of choice are all "retro" and reminiscent of her childhood, according to Jamie, including things like fish paste and bananas in Vegemite. Still, cravings are not Jools' oddest pregnancy symptom. According to Jamie, "she goes to the hardware store, and gets rubber water bottles, and just chews on it."
Jamie and Jools are already parents to daughters Daisy Boo, 5 ½, and Poppy Honey, 6 ½.
Source: Late Show with David Letterman
Click 'More' to watch video of the interview!