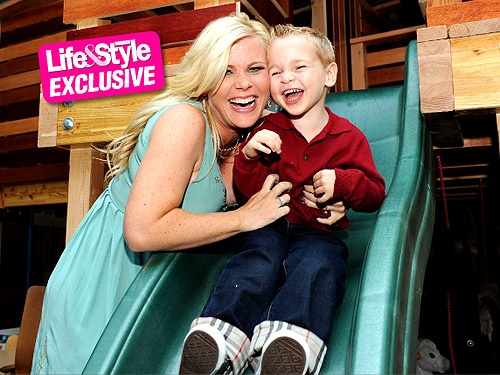 Eric Blackmon
The Biggest Loser host and Days of Our Lives star Alison Sweeney raked in the gifts at her November 2nd baby shower at the Treehouse Social Club in LA. But there was a twist — all presents were donated to St. Jude Children's Research Hospital. "It seemed the perfect opportunity to do something good and have a good time, too," Alison, who's expecting a girl with husband David Sanov on January 20th, told Life & Style at the bash, which was hosted by the Hot Moms Club, sponsored by BabyPlus and Huggies and decked out by decorator Jennifer Sbranti. The guests — who noshed on Sunflower Baking cookies and Crumbs cupcakes while sipping Bloom Tea and Izze drinks — included several of Alison's Days co-stars, as well as her 3 ½-year-old son, Benjamin Edward.
Ali's favorite gifts were cozy clothes from Bebabean, girly things from My Princess Closet, a Little Giraffe robe and blankets, and her pink Bugaboo stroller. Guestsleft with Hot Moms Club gift bags worth over $1500 and kids left withNational Geographic Kids swag bags as well!
Although Alison, 32, says she loves having a boy, she's looking forward to getting her girl on with the new baby. "I love decorating her room with all this great girlie stuff," she said. "I'll be honest, I'm very excited about buying a princess dress. And the lip gloss and nail polish — it's going to be so cute!" Don't expect a name like Apple or Honor, though. "We're very traditional," said Alison. "We're not at all interested in artsy, creative, trendy names."
If you missed our CBB interview with Alison — she answered your questions! — check it out here.
Source: Life & Style; Hot Moms Club
Click 'More' for many additional images from the shower!
With Petunia Pickle Bottom Diaper Bag.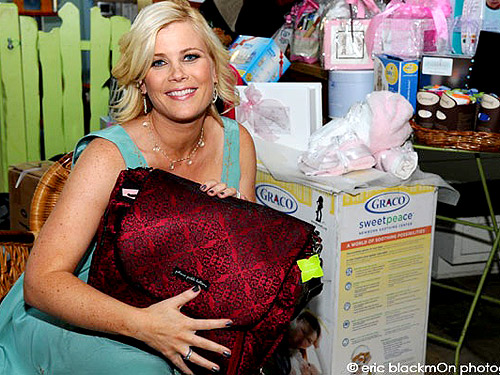 Eric Blackmon
With husband Dave, son Ben and Safety Mate.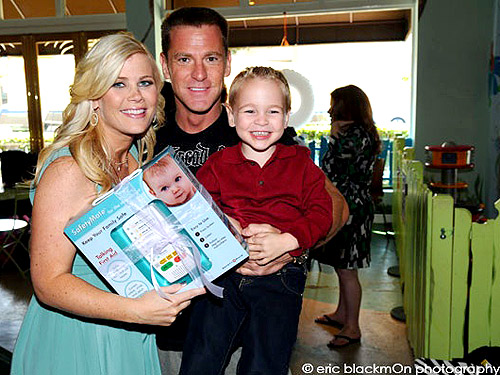 Eric Blackmon
With pink Bugaboo Bee, a favorite.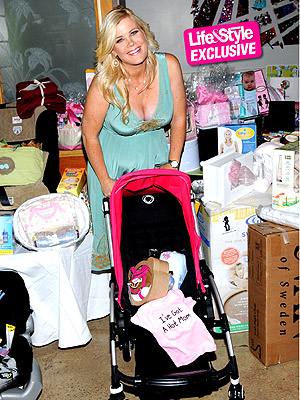 Eric Blackmon
With Dream Baby CD.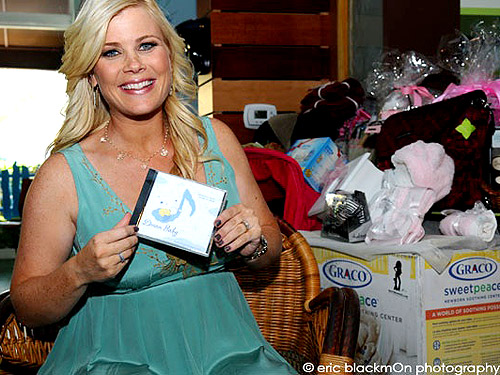 Eric Blackmon
Lots of clothes!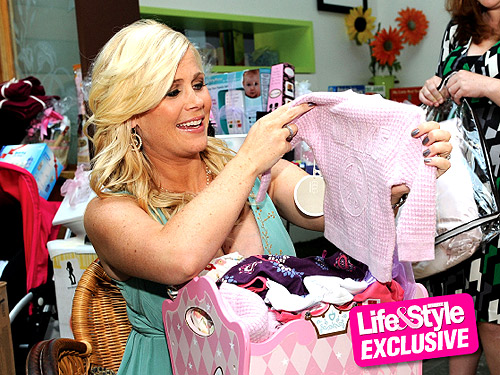 Eric Blackmon
Gift bag filled with goodies, handed out to guests as they left the party.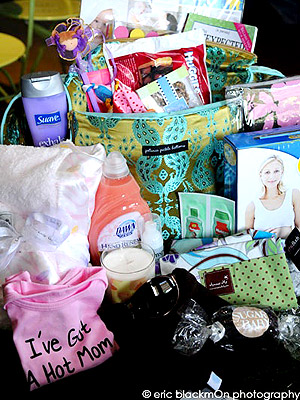 Eric Blackmon