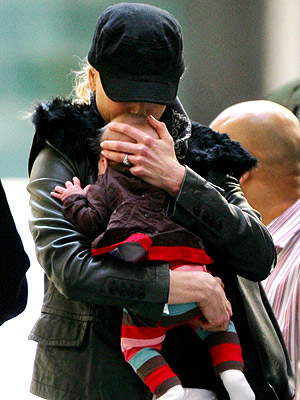 Flynet
A beaming and, at times, emotional Nicole Kidman appeared Monday on The Oprah Winfrey Show to dish on life with Sunday Rose, her 4-month-old "miracle baby" with husband Keith Urban. Following an ectopic pregnancy, a miscarriage, and "so many years" spent trying for a baby without success, the 41-year-old actress admits that she had begun to believe that she was not meant to have a biological child.
"I had two beautiful adopted children, and just thought, 'Well that's not my path. That's not what I'm going to get to experience.' And I [was] fine with that.'"
Because the pregnancy came as "a shock," Nicole says she is acutely aware of her good fortune. "I talk about it because…there's a huge number of women who have experienced miscarriage, and it's very traumatic," she explains. "I was very very lucky at this stage in my life to be blessed with a baby girl." Her two children with ex-husband Tom Cruise — Isabella Jane, 15, and Connor Antony, 13 — are lucky to once again welcome a baby sister, having welcomed Tom's daughter with wife Katie Holmes, 2 ½-year-old Suri Cruise, in 2006. To hear Nicole tell it, her older two children have taken to their new roles with ease.
"They've very used to having children around. They grew up with cousins, and Suri, and now Sunday Rose. But Connor is like, 'I want a boy. That's great and everything mom, but why don't you have a boy?'"
When asked by host Oprah Winfrey whether she and Keith will try for a son, Nicole simply smiled and replied: "God's plan."
Click 'more' to read about Sunday's birth and why Sunday is Nicole's favorite day.
Describing Sunday as "gorgeous" and the spitting image of Keith, Nicole showed the audience a small photo of her sleeping daughter she carries in her wallet. She teared up while recalling Sunday's birth, revealing that with a female doctor, a female doula and numerous female relatives present, Keith was the only male in the room. "And then Sunday Rose came out screaming," Nicole recalled. "That is such a good sound."
"You're like, 'Oh thank you God, she's okay.' It makes me cry. Don't even get me started. I think something happens when you give birth…I cry so easily now. I don't know why."
From the sound of things, Nicole's emotional response began even earlier; she shares that she cried during her first ultrasound. "When you see that little heart beating inside of you…Wow," she says. "That's an extraordinary thing to experience." As has been previously reported, Nicole's father first suggested the name Sunday in honor of Australian patron of the arts Sunday Reed. The couple "loved" the name, but for more than that reason. "That's our favorite day," Nicole explains. "If you're lonely Sunday is a very lonely day, and if you're happy and you've got your family around you, then Sunday is a beautiful day…So our baby's called Sunday."
Click here to see the photo of Sunday that Nicole shared!
Source: The Oprah Winfrey Show