Nancy O'Dell Pens 'Mom-to-Mom' Pregnancy Tip Book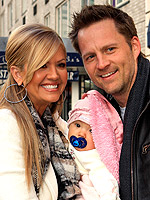 Carlos Vila-David Krieger/Bauer Griffin
The thrill of learning that you are expecting your first child can quickly turn to feelings of anxiety, fear, and downright confusion as questions begin to arise about what to expect during the coming months. Who better to dish out pregnancy tips and advice than a woman who has already been through the whole nine month ordeal herself? Ready to share her pregnancy journey with the world and fill moms in on everything from special craving requests to the secret world inside the delivery room, Access Hollywood host Nancy O'Dell will release her new book, Full of Life: Mom to Mom Tips I Wish Someone Had Told Me When I Was Pregnant, in April.
From advice to anecdotes Nancy — whose "biggest craving was for information" — wishes someone would have shared with her during her pregnancy with daughter Ashby Grace, 17 months, the 42-year-old is hoping to prepare soon-to-be moms on what to expect so they can avoid being "as surprised or panicked as I was." Explains Nancy, "I wanted to share in a simple, fun, and straightforward book all those crazy, unexpected, sometimes disgusting, sometimes hilarious things that happen during pregnancy."
In addition to the warnings of what to look out for, Nancy also shares touching advice on how to remember such a special time by including loved ones in the experience. Nancy's tip to make extended family feel important? Ask the technician at the doctor's office for three copies of the baby's ultrasound pictures: one for you to keep and one for each set of grandparents!
"After my mom passed away, I found a scrapbook she had made of all of Ashby's ultrasounds, so I know how much that meant to her. And it reminded me that Ashby has the perfect angel watching over her…always!"
Ashby Grace is Nancy's daughter with husband, business executive Keith Zubchevich, whom she married in June 2005.
Source: PEOPLE