Prince Joachim and Princess Marie of Denmark Expecting First Child Together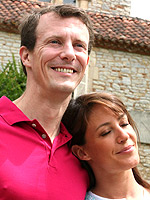 Steve Olsen/WireImage
Prince Joachim, 39, and Princess Marie of Denmark, 32, have announced that they are expecting their first child together. According to a statement released by the Prince's private secretary, via the Royal Family of Denmark's official website, the couple will welcome their child in early May at Copenhagen University Hospital.
In addition to the new baby, Prince Joachim also has sons Prince Nikolai, 9, and Prince Felix, 6, with ex-wife Alexandra Christina, Countess of Frederiksborg.
Source: The Danish Monarchy
Thanks to CBB reader Cecilia.