Melissa Etheridge Credits Wife For Running a Smooth Household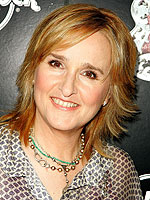 Jason LaVeris/FilmMagic
Following a "spiritual awakening" after her battle with breast cancer leading her to maintain a healthy lifestyle, survivor Melissa Etheridge has found a happy medium between her success in the music industry, her support of breast cancer awareness, and her family of six. Despite Melissa's plan to "do all my concert touring during the summer" in order to "make it a point never to be away more than two nights" when her older kids — daughter Bailey Jean, 11, and son Beckett Cypher, 9 — are in school, the 47-year-old singer praises her wife Tammy Lynn Michaels for running a smooth household.
"My wife works harder than anyone else with the children around the house. I make the money, sure, but she does everything else. And the other children love Tammy. She's a great stepmother."
Since her split with her ex-partner Julie Cypher, Melissa admits that their 50-50 custody arrangement of Bailey and Beckett is "a bit complicated, but it works." With Tammy Lynn, Melissa has 2-year-old twins Miller Steven and Johnnie Rose.
Source: PARADE