Kick It Suri-Style!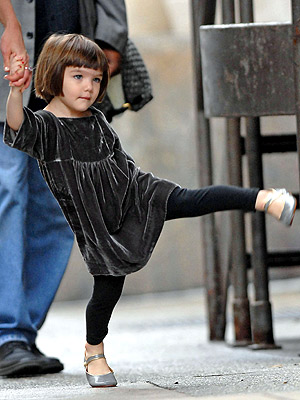 Gardiner Anderson/Carlos Vila/Bauer Griffin
Look at those long legs! Suri Cruise, 2 ½, holding hands with mom Katie Holmes, practices her high kick while walking through New York City on Friday. The duo has been out and about a lot this week — playing in the rain on Thursday and wandering the East Village on Tuesday.
Suri is wearing Bonpoint's Silver Leather Ballerina Shoes. For a similar silver mary jane look, try these from Target ($12), Payless ($20), Sam & Libby ($35), Elephantito ($60), Pampili ($59), and Pom D'Api ($143).
For more photos of dad Tom Cruise, Suri and Katie check out our Holmes-Cruise Family Gallery!