Sidekick by Kemby: Dual-Function Baby Bag and Child Carrier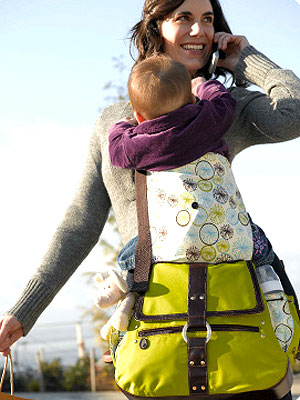 The Sidekick by Kemby
One of the biggest challenges I faced as a baby-wearing mom was deciding what type of diaper bag to carry with me on long outings. Draping bags over my shoulders was difficult because they would interfere with my carrier and would mess with my balance. I would ultimately always end up carrying a back pack but even that was annoyingly bulky and I missed the functionality that diaper bags offered with all their little compartments. I was excited when I first saw the the Sidekick by Kemby. I had been waiting a long time for someone to make a product like this and the Sidekick looked promising.
When you first look at the bag you think it is nothing but a gorgeous diaper bag. In fact, there is no way you would know that the Sidekick is also a child carrier when the carrier is not in use since it can be tucked neatly away. With just three simple steps, the Sidekick becomes a safe and stylish carrier for a child up to 35lbs. I tried using it with my 33 lb daughter and my 18 lb cousin and can tell you that I loved this bag for both children even though I probably would not use it regularly with my three-year-old. That said, I loved carrying my little cousin around and it made me wish I had had this bag back when my daughter was smaller.
Click More to find out why I loved the Sidekick, which celebrity loves it too and to get an exclusive deal!
The Sidekick can be carried three different ways on its own: slungfrom your shoulder, slung across your back (messenger style), orstrapped across your waist like a belt. The bag itself is beautiful andmade from baby-friendly fabric that easily wipes clean. It also has allthe features you'd expect in an excellent diaper bag (large sidepockets for bottles or sippy cups, separate compartment for diapers andwipes, cell phone pocket) plus a few extras (insulated bottle/snackpouch, wipes case, changing pad).
To use it as a carrier, you simply buckle the bag across your waist, pull the carrier out of the pocket and then adjust the carrier strap over baby and then secure it tightly to your body. (Visual instructions can be found here if you found my lovely description difficult to understand.)
I used the Sidekick during two extended outings, once to Target and a second time to the park. It felt secure and comfortable, certainly drew a lot of questions from other moms, and I really fell in love with it. As I said previously, I probably wouldn't use this bag regularly with my three-year-old but that has to do more with her age and height than with her weight. Like I said, I did feel well supported and did not feel as if her weight was poorly distributed (and I am someone with major back issues).
Constance Zimmer has the Sidekick and she calls it "a wonderful invention" and indeed it is. It seems hard to believe that this is the only product of its kind on the market right now. I really loved the Sidekick and can not recommend it enough. In fact, I am planning on buying two as shower gifts this month. I recommend this to any new mom.
CBB Deal: Save 10% when you use coupon code CBB10 (expires December 31, 2008).