Update: Jayden Federline Discharged From Hospital After Allergic Reaction Scare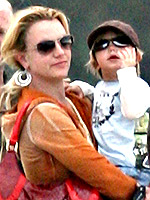 INF
Update: A source close to the Spears family has confirmed to Britney's official site that Jayden has been discharged from the hospital and that he is "fine."
Originally Posted at 12:00 p.m.: What began as Sean Preston, 3, and Jayden James' fun first trip to Louisiana — their mom Britney Spears' home state — ended with an overnight stay in the hospital. After spending Sunday morning surrounded by family at the Serenity mansion — including Britney's sister Jamie Lynn and her 4 ½-month-old daughter Maddie Briann — 2-year-old Jayden was rushed to the hospital at 1:30 p.m. after experiencing "a terrible allergic reaction." According to a source, Jayden broke out in "hives, was itchy, and irritable."
Following a stay in the hospital with his mom Britney, 26, and grandmother Lynne Spears by his side, Jayden is "doing fine," although the cause of the reaction is yet to be determined. "They're just not sure," a source tells PEOPLE. Britney's representative released a statement to her official website, which reads,
"Jayden James Federline was admitted to the Southwest Mississippi Regional Medical Center on Sunday, November 9th. Doctors concluded he had a reaction to something he ingested. He is expected to be discharged tomorrow."
Sean Preston and Jayden James are Britney's children with ex-husband Kevin Federline, 30, who currently has sole custody of the boys.
Source: PEOPLE