You Said It: Five Great Comments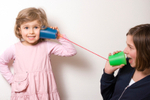 istockphoto.com/wojciech_gajda
CBB was once again buzzing with commentary this week, on everythingfrom baby weight and kids with cell phones to voting on Election Day and the country's new first daughters. You all had a lot to say, and we lovedreading every word! Here's a look at five great comments from the past week:
Posted by Tara on Growing Up in the White House:
These little girls are so gorgeous and poised. I think at the age theyare at now, living in the White House won't be so bad. When Malia turns13 it will probably change. How funny to think of her as a sneaky,spunky teenager. I am thrilled we will get to watch these girls grow up.
Posted by MB on Sarah Jessica and Matthew Take James to the Polls:
Aw that's so cute! One of my favorite memories as a little girl wasgoing with my dad as he went to vote. He even let me punch the card forhim sometime (shh don't tell haha!).
Click below for three more comments!
Posted by Rebecca on Julianne Moore Says Son Cal is 'Nervous' to Answer His Cell Phone:
A lot of places don't have pay phones, and then you have to worry aboutyour kid finding one when they need it, hoping they have change for thecall. The elements come into play if you're using an outdoor pay phone.Lots of pay phones don't work and are just plain nasty. It's mucheasier to have a phone in their pocket, they can call whenever theyneed to, and in the case of Cal, it seems like he has a Firefly (orsomething like it), so not just anyone can call him, and he can't calljust anyone; the numbers have to be programmed by the parents. Itotally see why parents want their kids to have a cell phone(especially celebrities.)
Posted by Brianne on Tori Spelling Advises New Moms to Take Their Time Losing Pregnancy Weight:
Finally, a celebrity who tells it like it is about baby weight. Igained 55 pounds with my daughter, who was born the same week as MaxBratman and Harlow Madden. I'm naturally thin and dropped the weightafter a few months, but seeing the celebrities drop it almostimmediately really can bring you down- especially with the hormones.Kudos to Tori for reminding us that that the most important thing isyour family, not your baby weight.
Posted by JJ on Suri Cruise Stretches It Out:
When I was little, I preferred dresses (as a toddler). My mom boughtthem at the second-hand shop because all I wanted to wear for play(outdoors, indoors, anywhere!) were dresses. I found them morecomfortable and easier to play in, I guess. I didn't really wear pantsmuch until I started school (6 years old). So I really don't see the bigdeal with Suri wearing dresses!
Send us your favorite comments at CBBTips@gmail.com.