Rascal Flatts' Gary LeVox Puts Family Before Music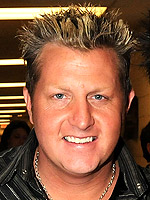 Jeff Kravitz/FilmMagic
The only thing more important than music to award-winning country music group Rascal Flatts is family. Gary LeVox, lead singer for the group, shares with USA Weekend that despite having busy musical careers, his daughters Brittany, 8, and Brooklyn, 4, always come first. Since the group mainly tours on the weekends, the 38-year-old makes sure that he spends as much time with his daughters during the week and enjoys "taking them to school and picking them up and going to all the soccer and gymnastics practices." To make sure that his daughters have great memories from their childhood, Gary also likes to take them each on special date nights.
"[Brittany] got all dressed up, and we ate at a local Carrabba's, and then we saw Fly Me to the Moon in 3-D. She'll remember these dates for the rest of her life. So will I."
Gary isn't the only band member who treasures family time — lead guitarist Joe Don Rooney does as well. Joe Don and his wife, 2005 Playmate of the Year Tiffany Fallon, welcomed son Jagger Donovan five months ago and since then, his bus has made a transformation. Gary shares that "Joe Don has practically installed a nursery in his bus, with a changing table, crib and everything."
Rascal Flatts' latest album, Greatest Hits Volume 1, was released on October 28th.
Source: USA Weekend