Mary Lynn Rajskub Shows Off Son Valentine Anthony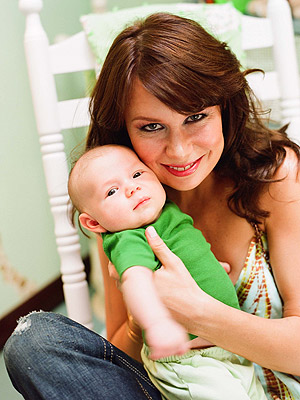 Elizabeth Messina for PEOPLE for use on CBB
Although you may be familiar with her as the always-loyal Chloe O'Brian on 24, Jack Bauer is no longer Mary Lynn Rajskub's main man — these days, that honor goes to her new son, 3 ½-month-old Valentine Anthony.
After a long pregnancy (he was almost two weeks late!) and a homebirth-turned-emergency-c-section, Mary Lynn, 37, is ready to introduce her little boy. The actress posed for PEOPLE and chatted with CBB in an exclusive interview, talking about her pregnancy, delivery, 24, and how she and boyfriend Matthew Rolph chose their 9 lbs., 5 oz son's name!
Click 'More' for the interview and three additional photos!
So the first question we have to ask is — are you coming back to 24?
Oh yeah, I'll be back. We're in production now. We've had a lot of breaks because of the strike, and then the writers getting back into the swing — getting it right for our show. We raised the bar pretty high for ourselves. When I go back and watch 24 it's like, "This show is insane. There are so many plotlines and so much going on!" So this year we took a couple of breaks while they went and redid scripts. They're getting it right and making it different, and really trying to get back to how it was the first couple of seasons — heavier on the storylines.
I'm actually going back to work tomorrow for the first time after the baby. I've already brought him to the set and everyone was passing him around. He loved it!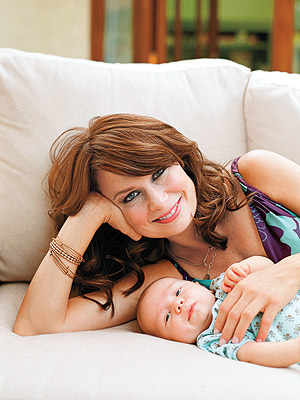 Elizabeth Messina for PEOPLE for use on CBB
Do you have a set-up for the baby in your trailer?
Yes, but I'm just kind of winging it. I have a nanny, and my boyfriend is working out the details. "Oh, dad will have the baby in the morning, then the nanny will meet me at work, and I have to take the breast pump." It's called Medela Pump in Style. Even if you happen to do something for six hours, you just need to pump. We went to a wedding, and I was like, "Oh my gosh!" Even when I plan to leave the baby for more than three hours, it doesn't work out so well.
What products do you like or use on your son?
He actually falls asleep to a CD with songs by Metallica, but they're played as a lullaby. Rockabye Baby Lullaby Renditions of Metallica ($17). I like Earth Mama Angel Baby foaming soap ($13). He uses that in his bath every day — it's really good. I like their products. I'm using a Graco stroller.
Why don't we talk about Valentine? He's so adorable!
Thanks! He is! Everybody told me it'd get more and more fun. It's just really hard at first, because you're really overwhelmed, but he's smiling and just fun to hang out with. He's looking at everything, and recently it was like, "He found another hand!" He's touching his own hand, and he's sort of sucking on his fingers. He's just really cute.
He's moving all over his crib. When I put him to sleep and come back in to check on him, he's scooted to the other end of his crib! He puts his head up in the corner, shoves it in there, because it's soft or comfortable or something. It's sort of scary, you're like, "Oh my gosh, he moved so much!" He doesn't stay in one place.
Are you swaddling him?
Yeah, but he's almost growing out of the swaddle a little bit. He's just busting out of it. He fights to get his arms out, and now he's sort of moving into sucking on his hands, which seems more comforting than the swaddle. If I just put the blanket next to his face and he's sucking on his fingers, that's almost taking the place of the tight, tight swaddle. Our guy is kicking and moving his hands, moving his feet. He's all over the place!
Was he very active when you were pregnant?
I would say he just had a normal amount of activity in the womb, but he is a very active baby. Always moving. But yeah, he's good. We're having a good time. [The pregnancy] was a surprise. I've always been the one to jump into things and figure them out later. I'm so glad this happened the way it did.
You wanted to wait until the baby was born to find out the sex, but you did say you thought you were carrying a boy. What made you feel that way?
I always knew he was a boy. Toward the end I started to second-guess, "Maybe it's a girl, maybe it's a girl!" But I always second-guess things. I just knew — every time I thought "girl," it just seemed wrong. I just automatically thought of him as a boy.
Were you tempted to find out?
Oh, of course! It's really hard not to, even though it just takes a few seconds during the ultrasound for them to pass over it. We'd both close our eyes or look at each other like, "Don't look! Don't look!"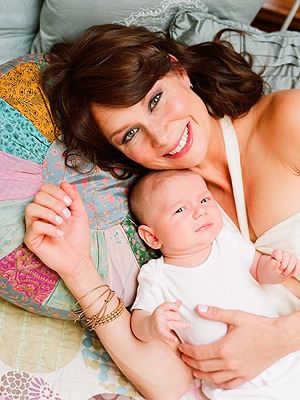 Elizabeth Messina for PEOPLE for use on CBB
What are the origins of his name, Valentine Anthony?
His name is Matthew's great-great-grandfather's name. And my dad's name is Anthony. We had girl's names picked out too, just in case, but I can't even remember what they are! One was Mercy. And Kira was on our list too. But I didn't think it was going to be a girl.
What can you tell us about the labor and delivery?
Well, I tried to have a homebirth, so I labored for 20 hours at home and ended up having an emergency c-section. I experienced labor and a c-section. I had a doula and two midwives, and [the labor] was really great. His head was just too big — he never could pass through the pelvic area. But up until that point the homebirth was fantastic. I would've been saying, "This is the best thing ever," but he just wasn't coming and wasn't coming so we finally went to the hospital.
You know, I was really out of it. I wasn't able to get an epidural, and I'd been in so much extreme pain for 20 hours that it was chaotic. Matthew and I both just started crying, because it was such a switch from thinking we were having a homebirth to delivering by c-section, so it was kind of freaky. But it was okay. Ultimately it went very well, and it was fine, but it was just a crazy, crazy couple of days. It didn't go according to plan, but what's important is that he is here.
How was recovery for you?
It's not great, it's weird — in some ways, it's terrible, in other ways … you're in the hospital and the nurse says, "You're going to get up and go to the bathroom," and you're like, "No I'm not!" It's so bizarre how quickly the body recovers — like 10 hours later, I was like, "Okay, I can try to do this." They know that, because they have that mapped out, but when you're experiencing it, you're like, "I can't even sit up, let alone get up, walk over and do that." But within four or five days you are walking around pretty easily. It's hard getting home — my mom and dad were here and you definitely need help. With a c-section things are kind of hard — I didn't really change diapers for the first week.
Before I was pregnant — and I'm sure a lot of people feel this way — when you don't have it in your mind, you don't have kids and you're not thinking about having kids — it sounds obvious, but it's so crazy how major it is! People can die during childbirth — it's really, really so intense. And again that sounds cliché, but I have such a new respect for all mothers. Once you go through it and talk to other mothers, you're like, "No way!" It's so major. I don't know how people act, like, "Oh yeah, I just had a baby."
Even in attitude — I never thought about it before I was pregnant. I just thought, "Oh you have kids." But once you do, people who have had kids rally around you. I got so many calls like, "Are you okay? Are you sure? What's going on?" It's the most major thing you do. And the birth is just the beginning! You think the pregnancy is like, "Oh my God,
" then once the kid arrives, it's a whole new thing.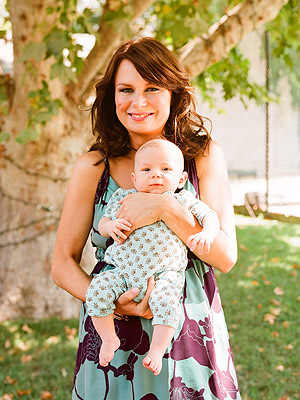 Elizabeth Messina for PEOPLE for use on CBB
24: Redemption, a two-hour TV movie, airs Sunday, November 23rd at 8 p.m. on FOX. The new season kicks off with a four-hour premiere on January 11th and 12th, 2009.
Need more 24 babies? Marisol Nichols welcomed daughter Rain India in September, and did a CBB-exclusive interview with us while still expecting! If you missed it, see Valentine's birth announcement here.