Kevin McKidd Does Not Hesitate to Put Family First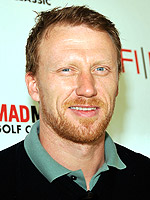 John M. Heller/Getty
When the golden opportunity to audition for a role on Grey's Anatomy presented itself, actor Kevin McKidd was more than thrilled to accept — until he realized the big meeting was scheduled on his son's eighth birthday! Kevin, who is often shooting on location and admits that he is "hardly ever in the same country on my son's birthday," flew into Los Angeles just in time to celebrate the special day with Joseph, only to receive an important call from his agent. Despite learning the exciting news that the creator of the hit show, Shonda Rhimes, was eager to meet the 35-year-old actor, Kevin kept his promise to Joseph and, like any loving father, asked if he could reschedule.
"I was like, 'I'd love to meet her, but I can't. Can we do tomorrow?' And they're family-friendly so they were really understanding."
It seems that Kevin did in fact impress Shonda, as he has joined the Grey's Anatomy cast as Owen Hunt! The show airs Thursday nights at 9 p.m. on ABC.
Joseph and daughter Iona, 6, are Kevin's children with wife Jane Parker.
Source: USA Today