Beyoncé's Future Family Plan Extended Past Her 30th Birthday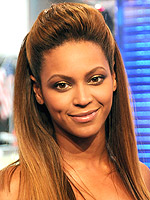 George Napolitano/FilmMagic
In an interview in 2006 with Access Hollywood, singer Beyoncé Knowles said she was ready to conquer the world by getting married, starting a family, and winning an Oscar by the time her 30th birthday rolled around. Now, two years later, Beyoncé, 27, "would still love to win an Oscar," but as for kids, an extension on the looming deadline may be in order. "The kids, I don't know…maybe in three years," laughs the singer. In the meantime, her nephew Daniel Julez Smith — whose mom is Beyoncé's sister Solange — is keeping her plenty busy! Noting "how we change so fast," Beyoncé shares,
"I've been keeping my nephew and he's the smartest little boy. But you know, he's making it hard! Because it's a lot of work!"
Despite the wait for children, Beyoncé fulfilled one of her goals when she married rapper Jay-Z back on April 4, 2008. Never officially confirming the marriage, Beyoncé says she has no plans to divulge any details of her personal life. "It's a choice we made a long time ago and it's worked and I wouldn't change it now because it's worked so far."
Beyoncé's new album, I Am…Sasha Fierce, is in stores November 18th.
Source: Access Hollywood