Vera Farmiga on the Pendulum of Pregnancy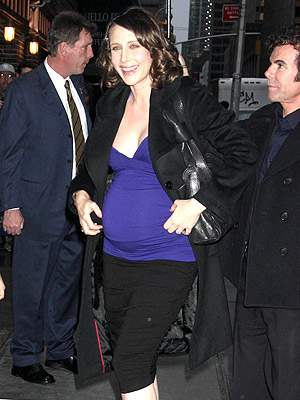 Roger Wong/INF
Pregnancy "keeps getting worse" for Vera Farmiga, she joked during a Wednesday appearance on The Late Show with David Letterman. What tops her list of complaints? Hormones! "The agony and the ecstasy of pregnancy…it's a real pendulum," Vera noted.
"I'm a trapeze artist on that pendulum, with great velocity going to this happy side, and with equal momentum [going the other way]. My poor husband, he's always on that happy platform saying 'Come back! Come back!'"
Just about "anything" can trigger the waterworks, but "mostly it's over having nothing to wear," Vera said. When she's had another maternity meltdown, the 35-year-old actress likes to "strip down" into her "big bellied birthday suit" and cry "these big, voluptuous, heavy tears…the kind that just sort of spring and fall." Then — when she least expects it — the pendulum swings yet again!
"I'll catch a glimpse of myself in the mirror, a beautiful angle. And I'll demand that my husband photograph me naked with the goats."
Vera said that she and husband Renn Hawkey of Deadsy have decided on a name for their baby-on-the-way, a boy, but have opted not to share it with others, citing the couple's "two very opinionated mother-in-laws."
Her new film — The Boy in the Striped Pajamas — is in theaters November 14th.
Source: The Late Show with David Letterman
Vera wears Isabella Oliver's Bracelet Portrait Top in Indigo ($125), paired with their Midi Ruched Skirt in Caviar Black ($115).