Singer/Songwriter/Actor Holly Palmer Expecting First Child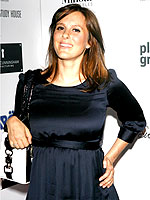 Michael Bezjian/WireImage
Holly Palmer wears a lot of hats. As a singer, songwriter and actor, the 38-year-old is constantly traveling the country to share her work — in fact, she's toured with the likes of David Bowie and Idina Menzel, and stars in My One and Only with Kevin Bacon and Renée Zellweger, out next year. But life is about to change for Holly: She's pregnant with her first child!
Holly chatted exclusively with CBB about beating morning sickness while on the road, seeing her baby's first ultrasound in a rather unconventional way and the thought of watching her husband carrying their child — it's a boy! — in a Baby Bjorn.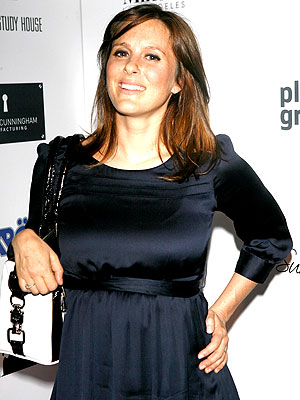 Michael Bezjian/WireImage
Danielle: Congratulations!
Holly: Thank you. I think your site is great, it's so much fun, there's so much on it, so it's a pleasure to break my news here.
How are you feeling?
Well I'm 21 weeks now [due March 10th], so I'm feeling pretty good. I'm past the initial period. The first three months were bad – I didn't actually throw up, but I just had that nausea and seasickness, and the only thing that helped it was white bread. That was all I wanted to eat. I did a movie this summer, and so I'd been eating really great whole grains and fruits and veggies – I tend to eat that way anyway – but I was making sure I was making good choices because I was going to be photographed a lot. So all of a sudden when all I could eat was white bread it was like "This is so good right now!" Mashed potatoes and white bread, haha. I remember when my sister was pregnant, I'd ask her about being sick, and she said, "Yeah I'm always either eating, or feeling sick and not being able to eat."
You were touring with Broadway star Idina Menzel (Wicked). It must be hard feeling nauseous but never getting sick.
I guess once you throw up you feel better? I was on the road with my friend Idina during that time, for five weeks, the middle-to-last five weeks of that trimester. And my friend Jamie, who's on her third pregnancy right now, said it was great I was going to be on the road, because it'd make the first trimester go fast. I didn't really know what she meant until I got home, and then the last two weeks I was at home seemed to go on forever. There was something about being on the tour bus, getting up, going to the next venue, getting food and doing sound checks made things go much faster. I was constantly having to move, and that made things go by pretty quickly.
Did the other people on tour know you were pregnant, or were you trying to keep it a secret?
Well that's a funny story! I was eight weeks, and I hadn't been telling anyone, and we were in the South, we'd done a show the night before, went to sleep about 12 or so – I only got five hours of sleep. We woke up, I'd slept hard, got back on the bus, got in my bunk, slept really hard for another three hours and woke up and we were at a Cracker Barrel restaurant. We went in, I got up and I had to call the doctor to change an appointment for when I got home. I was off in the corner making this call, and I got lightheaded and a little sweaty, so I sat down, but I then I felt I had to get up. I took a few steps around the corner and just went down – I fainted in the Cracker Barrel! It seemed like not even a blink of the eye later – I wasn't passed out for long – the whole band was circled around me, and the tour manager was whispering in my ear, "Are you pregnant?" and I was like, "Yes!"
They called an ambulance, and I said I didn't need one, but they asked to take my vitals because I looked a little pale. They said my blood pressure was low and asked if I wanted to come in to the hospital, so they started packing up and I said, "You know, actually I'm not really feeling better so maybe I should go with you." I just needed to stay more hydrated, eat a little more and move a little slower, and I did get to see the first ultrasound at that hospital in Georgia. I hadn't seen it yet, because I was only five weeks when I went on tour so it was too early to see anything.
The first ultrasound is so exciting!
It so was! The tour manager was in the room with me, bless her heart, and I was in the bed, and the doctor stood there and said, "You just have to take it easy." And I said, "Okay, you know I actually haven't seen the baby yet, could we do an ultrasound?" And he said sure! He said "The baby looks perfect!" So I called my husband, and he was really excited as well.
Was he disappointed he wasn't there to see it with you?
I think it went right from, "'You fainted in the Cracker Barrel, oh my God!' to 'What's happening?' to 'You saw the baby, okay, everything's fine!'" and then Idina surprised me and flew him out to a town we were working in later on, I think it was Detroit. I got off the bus and there was this whole surprise – he was there waiting for me when I got off the bus.
It was funny – when I found out I was pregnant it was July 3rd, and I had to go shoot this movie on July 6th – I had to be on set. It was this movie I did with Kevin Bacon and Renee Zellweger, and I play Kevin Bacon's girlfriend, and it was really a thrill to do that. I'm a singer, and I've done a lot of work as a singer, but this was my first time working as an actress. I'd filmed a little the month before; this was my second "batch of work." And I'm supposed to be smoking in the scene! And I just went "Oh God, what are these cigarettes?" Normally they use herbal cigarettes on set, but I looked at that cigarette and thought, "Well I don't want to go around telling everyone I'm pregnant, but I don't want to inhale something that's going to be bad for my child." So I went over to the prop woman and asked, "What is in these cigarettes?" And she said they were just herbal. And I decided to tell her I was pregnant. We had a little joyful moment there, and she said, "Well I don't think you should smoke them at all!" I thought maybe I could hold them to my lips and make it look like I was smoking, but not actually inhale or do anything with them. She said that was fine, as long as I thought I could pull it off, so that's what I did. She was so sweet about it. It was just ironic that she was one of the first people I told.
Did you ever tell your co-stars?
No, I never did, because it was still so early, I had literally just missed a period, just had a positive test and hadn't even been to the doctor to confirm it. It was a really long day of shooting. They'll find out eventually though.
I keep waiting for Idina [and husband Taye Diggs] to have a baby, do you know if that is something they want to do?
I don't know! But they're such a lovely, gorgeous couple.
What kind of stuff have you done to get ready? Are you in nesting mode yet? Obsessed with names?
We have a couple names picked out, they're kind of unusual so we're hanging on to those until we actually need them, but we do know it's a boy which we're excited about. I was sure it was going to be a girl – I had dreams, and I saw her – but Joe said, "No it's going to be a boy!" By the time we found out he'd sort of worn me down and I figured it was going to be a boy, and sure enough, yes it is.
It's two-fold. I like to generate projects for myself – normally, I like to work on different things – and I find I'm doing that even more now. I want to get a bunch of stuff done so that when we finally get to meet him, that I can really concentrate. I want to be able to hang out with him all the time, and enjoy it and feel like I've done a lot of work to prepare for that. I'm working on a couple albums right now and looking into a couple of solo shows. Just a few things – I'm stepping up the amount of work I'm doing personally and as an artist, so I can really be there when he's here, and check some things off my list.
Are you going to be interested in pursuing children's music once he's born?
Actually yes. You know the Kimya Dawson from the Moldy Peaches – have you heard her kids' records? That record is so sweet! It's just really superfun and not traditional – it's her own kind of twist on what kids' music should be, so it makes me really exited to do that. Use really cool instruments, toy pianos and toy drums. My
husband is an artist in several different ways, so I think we'll do some songs together and with friends of ours.
What about getting the baby's room ready? Is that something you've started tackling?
Yes, we have a room in our house that we're converting from a music room to the baby's room. We painted it and got out all my old books – Chronicles of Narnia and all these other books I had as a child. We're registered at the Juvenile Shop and I think we'll probably register at Target for basic stuff. I've fallen in love with this cradle from Green Cradle. It's an environmentally-friendly baby store, and they have a beautiful cradle and it looks like it's made with raw, unfinished wood, filled with soft blanket. So that's what we're thinking cradle-wise.
I'm in a debate between the Orbit and the Teutonia. I love the Orbit – that you can turn your child away from the sun if it's in his eyes while you're walking down the street – that's a great concept. But the Teutonia is really lightweight and I like the design, and it's a bit more reasonably priced, so I'm in a bit of a debate. We're looking at both of those. My friends are all in love with the Orbit. I get why, but I like to know about other alternatives before I go ahead and buy one.
What else are you up to right now?
Well the movie is probably coming out in the summer. I think they're just finishing the editing now, so we'll see when it's being released. I'm excited about that!
Musically, I'm working on an album with Brenda Lee. I've been really in love with her songs – she's a really interesting musical icon who's never won a Grammy, was never a tabloid regular – she just wanted to make great music. My friend played her music for me a few months ago, and I felt all of the songs were just incredible. So I'm reinterpreting an album of her music. I'm doing some solo shows where it's me and my electric guitar, and I go and I play music, so I've been recording some sketches and am assembling some songs and will probably make a record around Thanksgiving. So that'll probably come out around March. It's one of the things I want to get done before he comes!
In New York, I just did a show. I have a great band out there, because I actually used to live there. So I went back and did some shows and I'm going to go back and do some more. So we've recorded some of those shows, and I'm going to put together a retrospective of music from my four albums with this new band, and make a retrospective of all the different music I've made. That'll probably come out around the same time, March.
It sounds like you've got your hands full until he arrives!
We're just so excited to meet him. My husband and I keep looking at each other saying, "When's he going to come? We want to meet him right now! What's he going to be like? What's he going to like? What's he going to say? Who is he?" We're just so excited. My friend was asking, "What piece of baby gear are you most excited about using?" So many of my friends are having babies. I counted up all of my friends who are having babies from last summer through me, and there are like 15 new babies in my little circle now. It's incredible. So I've been observing them and seeing what they like, and for me, the gear I'm most excited about is the Baby Bjorn, on my husband, with the baby in it.
It's so adorable to see big guys carrying little babies. Like Chris Noth carrying his son Orion in a Baby Bjorn – huge guy, little baby.
Yeah, and it's really fun seeing him – just how excited he is. He's been wanting to get it going for a while, almost since we were dating. He was like, "Why are you taking those birth control pills? Let's have a baby!" And I've always wanted to do so much, and finally several months ago I was like, "You know what? I'm ready – let's go!"
You sound like you definitely have your parenthood just ready to go. It's exciting. Once you have a baby, you know what a pregnant woman has gone through, and you just love them. They have an amazing, positive, loving energy. I want to hug every pregnant woman I see!
I do feel like now I've created lots of different things, as an artist that's what you do, and everyone does that in their own realm. But I just feel that this person we're creating now, this little boy, is really the most important thing I've been a part of creating. It feels like the things that are really important just stand out from those that aren't. You get caught up in day-to-day life and things that don't necessarily deserve your time. I feel like I have more of an understanding of what life is about and what is important to look at, and what doesn't really need my time. And I think that grows exponentially the more kids you have and the older they get. You want to manage your energy and what you do.
— Danielle