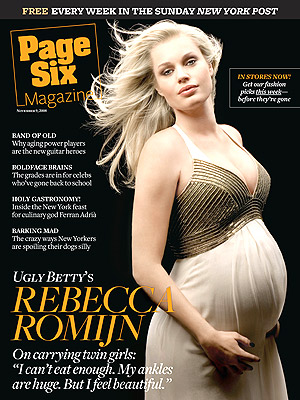 Courtesy Page Six
Having surrendered herself to the notion that parenthood will be "the hardest thing" she's ever done, Rebecca Romijn says she takes heart in knowing that "life will never be the same, but in the best way possible." In a revealing new interview with Page Six Magazine, the 36-year-old Ugly Betty actress reiterates that the twin daughters she expects in January with husband Jerry O'Connell were not conceived via in vitro fertilization. Furthermore, she shares, the couple briefly tried the fertility drug Clomid last year — without success. "By the second month, I was like, 'Ahhh! I hate this!'" Rebecca explains. "I think when you start messing with your own hormones, it's crazy-making." The pregnancy was finally achieved with the help of Chinese acupuncture.
Another rumor dispelled is that her marriage to actor John Stamos ended because she didn't want children.
"There is absolutely no truth to that. That [story] was completely made up. I desperately wanted kids. I was never a girl who dreamed about what her wedding day would be like, but I've always dreamed about decorating my baby's nursery."
As for Jerry, Rebecca has no concerns about his abilities as a father. "I knew early on he would be a fantastic dad," she says. "He really lives his life with tremendous integrity, and he's a healthy person in every single way." While Jerry took some heat for describing his wife as "huge" during a talk show appearance in September — comments for which he later publicly apologized — Rebecca goes on to call herself a "beached whale" in the new interview. "I can't eat enough. My ankle are huge. But I feel beautiful," she notes. Rebecca adds,
"I can't move anymore…I have not been without a bra this entire pregnancy. I refuse. I'm not taking any chances. I'm determined to keep the puppies up!"
Source: Page Six Magazine