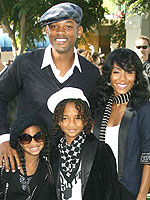 Entertainment Press/Splash News Online
Jada Pinkett Smith has had numerous challenges in her life, but the hardest one she's faced is balancing her career with parenthood to Trey, 16, Jaden Christopher Syre, 10, and Willow Camille Reign, 8. Even though she knows that "there's no formula for how to raise a child and have a career," she has learned that "anyone can give you ideas about how to balance the two, but you have to do it your own way. And I do everything my way."
As busy as life keeps her, Jada knows "I need help raising my kids" and feels that every mom does. "When I travel to third world countries — certain places in India or Africa — I meet mothers who know they can't do it by themselves. You see groups of women raising their kids together in a village, helping one another relieve stress," shared Jada with Working Mother, adding that "in this country, people tend to say, 'Mind your business!' I think part of the problem is that most women think they don't deserve time for themselves." The actress and singer is a firm believer that women "need each other for support" and that "We need to develop relationships with people so that we have help. Everyone needs to figure out a way to create a support system — no one should do it alone." That is why she and her husband, actor Will Smith, rely on her mother Adrienne Banfield-Jones.
"That's why my mother travels with us when I'm on tour with my band, Wicked Wisdom, or if I'm on location for a movie. If she can't make it, a friend comes along, or I bring Will. But if Will's with me, I still usually have my mother or Will's mother there … I need someone who will make sure the kids aren't eating chocolate cake!"
Even though she and Will receive help, Jada points out that the family treasures quality time together and "our kids want so much time with us that sometimes Willow still sleeps in our bed." The kids want to be with their parents so much that "it's hard for Will and me to go on a date or have time alone," and Jada has to "keep reminding him, 'Eventually Jaden and Willow will be doing their own thing. So let's enjoy this time.'" The couple "give them all we have right now, knowing there'll be a day when it'll be just the two of us again."
Click 'More' to learn how Jada adjusted to being a stepparent and her opinion on the kids acting.
Prior to Jaden and Willow's birth, Jada became stepmom to Will's son Trey from his previous marriage to Sheree Zampino, an experience she considers her toughest. "As a kid, I'd been through such excruciating experiences with my parents' divorce and having our family split up that I wanted to do anything in my power to make sure Trey didn't go through that," Jada explains. "I had to learn to get out of my ego and remember that it wasn't about me." It wasn't just becoming a parent that took some adjustment on Jada's part, it was having "to understand that Will was going to have a relationship with Trey's mom because they share a child. I had to support him in doing what was right even though it wasn't easy."
"But greatness doesn't come from ease. You want to do great things and you want it to be easy? These don't go hand in hand … But the fact that now we enjoy holidays all together with Trey's mom and her new husband makes the tough part worth it. Trey knows we all get along, and that creates stability for him."
After Jada gave birth to Jaden she took almost three years off, much to the chagrin of her support people in the industry. "Once again, I had to leave my ego out of it. I had people saying I should really audition for this or that, but there was nothing more important than the baby I held in my arms," notes Jada. Now while she works, she makes sure that her kids are with her and she believes that is one reason that both of them have their own acting careers now. "They've grown up on movie backlots, so it didn't surprise me at all when they wanted to get into acting. It's in their blood." While some people may question Jada and Will's decision to let their children act, the 37-year-old knows that it is the right decision.
"You prepare your kids for challenges. You don't teach them to back down because things are hard …I teach my kids to keep their integrity, to remember that being a good person comes first and to stay true to who they are. If they know that, I can put them in any circumstance without worrying."
Source: Working Mother